New Work defines new working concepts. Desk sharing for hybrid workplace designed by desk.ly is one of them !
What does "New Work" actually mean ?
"New Work" refers to the new and networked way of working in today's society, the global and digital age.
Digitalisation has changed our world and the way of working considerably in recent years. Structural processes run automatically and can be flexibly adapted to the company and individual requirements. The networking of employees via the internet and online processes enable simple, cross-site collaboration in real time. Innovative IT and software projects create user-friendly interfaces that are intuitive, fast and easy to use and make every day at work easier. The possible individual and personal working conditions for each employees have proven to lead to better performance and higher employee satisfaction, which strengthens corporate loyalty and corporate behaviour.
The needs of employees have changed accordingly. The transformation of the world of work has to adapt structurally and new solutions such as desk sharing are emerging to meet the demands of modern workplaces. The topic of new work explains this digital transformation process and offers both optimisation opportunities for the digital world of work and solutions for possible challenges. New Work aspires us to use the individual strengths of each person optimally and efficiently for the overall success of the company. This is easily achieved by simplifying the handling of administrative requirements, more flexible working and hybrid workplace models. The digitalization and automation of work processes is a great relieve for people. Employees who can select their workplace according to the requirements of the respective task in a flex office with shared desk work much more efficiently.
Digitalisation is changing the world of work
Work is taking place in a completely new way due to technological progress and the digital transformation. The changed requirements demand new methods and skills from employers and employees - in fact, a new mindset! For companies with conservative structures and technologies, the new work is a great challenge. However, it is becoming increasingly relevant especially in the almost daily "war for the best talent".
Which possibly known services does an employer already provide?
Well-known services that have been used by companies for some time are usually perceived unconsciously. These include the following digital support services:
Tracking of working hours
Payroll
Leave application (holidays)
Travel expenses accounting
Internal training or further training
External training or further training
Personnel sheets and changes
Application/Authorisation for business trips


The desktop sharing for the flex office, which is solved by providers like desk.ly and connects the office and with the home office, is added as a new strongly growing position in the enumeration.
New work as a digital ecosystem in the world of work
The New work subject must be understood in a comprehensive way by companies and the benefits for their own organisation should be highlighted. It is not just a large IT project, but a subject that is deeply rooted in the structures of the company and that will in the long run change the way we communicate. Not all companies are ready to change immediately and implementation projects can last from 12 to 18 months.
Desk sharing in new work is a form of organisation in which employees can choose their own seat and location according to the tasks. The flexible modern office concept has many advantages, but only if everyone follows clear rules and agreements (read more about the rules and agreements on desk sharing here).
Advantages of new work and desk sharing in the flex office
Increased employee satisfaction through more autonomy
Higher employee loyalty through modern structures
Better work-life balance
Less distraction in the home office than in the open-plan office
More productivity through self-selected working environment
Optimization of office space through analysis of space and use of capacity
Cost reduction through the optimization of room layouts or co-working places
Disadvantages of new work
Fixed hierarchies change to self-determined work
Less contact with colleagues in the office
Our recommendation: introduce collaborative working days where everyone has to come to the office. In particular also to strengthen the sense of belonging to a corporate culture and a team.
Work-life blinding can promote overexploitation
No separation between workplace and the private sphere
Introduction to new digital tools and platforms is essential
Data protection regulations can contradict, e.g. if working in a café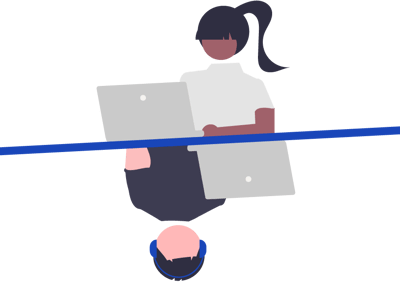 The benefits of hybrid work and desk sharing explained in more detail
Meeting employee needs
The needs of employees are so different that flexible workplace models take all these demands into account and integrate private life. It is possible to create free time or manage doctor's appointments for oneself as well as for the children. In addition, time can be saved if the journey to work only has to be done two or three times a week. Hybrid workplace concepts can be used almost everywhere, where office work or similar is done. desk.ly is a tool to organise and manage workplaces and offers many different functions for the independent management of the flex office - from place booking to analysis.
Competitive advantage for employers
Young people are increasingly combining professional work with their private lives. Mobile working through the connected world enables the merging of the two worlds and creates freedom to design the workplace. By introducing modern workplace models for hybrid working, it is possible to attract young people to one's own company in the recruiting process and retain them in the long term. The flex office combines the home office with the office and creates new possibilities for contemporary working in corporate structures.
Employee satisfaction promotes happy employees
The flexible workplace concepts and desk sharing also take into account employees who want and need fixed structures and a fixed organisation. In the desk.ly application, for example, areas on a floor can be stored with non-bookable places or certain floors or departments can be excluded from the shared desk concept. The individual adaptation of modern software developments to specific company areas creates a solution for all requirements. The static and flexible possibility to design the working environment promotes employee satisfaction at work, which increases productivity and performance.
Reducing office and space requirements in the company
Desk sharing and flex office make it possible to analyse how high the utilisation of office space(s) is overall or on certain days. This makes it possible to calculate how many workplaces are actually needed for productive work. The conclusion of the analysis can show that the office space can be reduced overall and thus costs (space, desks, chairs, rent, electricity, etc.) can be saved. Here's an example for "How can this be ?":
Only 75 workplaces are available for 100 employees, as previous analysis have shown that averagely 32% of employees are in the home offices. In order to avoid a surplus of office employees on one day, i.e. 76 employees come to the office and then one person has no place, the desk sharing tool desk.ly takes over the administration and organisation. All employees can book a place in advance and available workplaces in the company are displayed.
Whether the advantages or disadvantages of new work outweigh, depends directly on the personalities as well as the activities in the company.It may also be that not all areas of the company are suited to a modern office concept and that a hybrid model only makes sense for certain sections of the company. New work was developed for the idea of employee liberty, and more autonomy results in more responsibility and self-discipline. These benefits can increase the success of the company in the long run. The possible disadvantages of new work and office sharing should, in our opinion, be minimised in the coming years by a revision of labour law (where the Corona pandemic has accelerated the process) and the development of new strategies by HR departments