We would like to lead you into a new age of working on site. desk.ly is our solution for this: working at the right place, at the right time, with the right teams via the simple operation of our desksharing platform. Our development team therefore always has your needs in mind. With more than 40 years of combined experience in web development, our expertise and our passion, we develop desk.ly into the desksharing platform you want.

Below we introduce you to each individual desk.ly team member. So you always know who you are talking to or writing to. We are known for our fast response times and are always committed to introducing you to our application as well as supporting you in introducing desk sharing in your company.

Get to know us: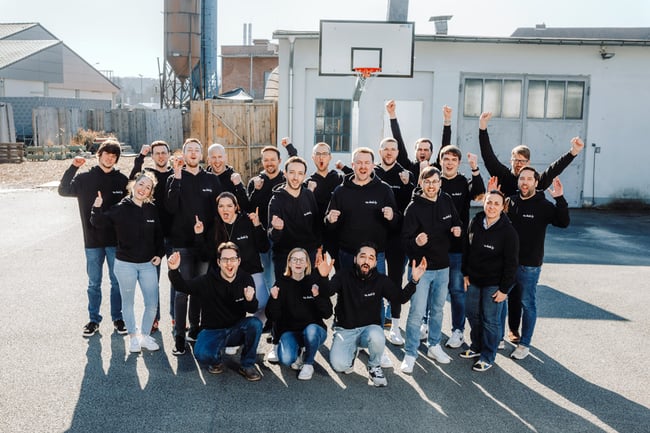 About us
With desk.ly, we want to help shape the future of the working world and enable our digital application for the management and organization of workstations in the flex office through desk sharing with a workstation booking. Your employees/colleagues should experience the individual design of everyday office life - "Power to the People"! Through our desksharing tool, all employees/colleagues* can come to the office for specific tasks and appointments, but also take advantage of the home office option. Social exchange, cooperation, innovation, creativity and efficiency are not lost in the office or in the home office due to this flexible change. Based on our experience, we can say that employees are happier and more satisfied and can work more efficiently since the desksharing tool has been applied.
Our history
With desk.ly, a digital desk sharing application was formed within basecom, an owner-managed software company from Osnabrück. The aim was to enable companies to manage their office workstations online, especially during the Corona pandemic. The booking system for desksharing is thus given to all employees as an online tool so that they can book the appropriate workstation in the company. desk.ly initially ran under the name 1.50 Office. The tool was developed in 2020 and released in the summer of the same year. basecom supported the further development of 1.50 Office and contributed to the fact that we were able to relaunch the tool in August 2021 with new features and a focus on self-service thanks to the numerous feedbacks from our customers. 1.50 Office officially became desk.ly!

Since August 2022, desk.ly has been standing on its own two feet and, with the agility it has gained, can grow even faster and more focused on its way to becoming the market-leading, employee-focused Workplace Experience Platform.
What happens next
The pandemic has enormously accelerated the topic as well as the understanding of New Work in Germany and creates new work concepts such as the flex office with desk sharing. Especially in the legally mandated home office during this pandemic, desk.ly has received enormous popularity. Currently, over 1,500 registered companies with more than 40,000 active users are using the desksharing tool - and the numbers are increasing daily. With this tool, not only can workstations be booked digitally, but office utilization and occupancy can also be monitored. This gives companies the opportunity to use their office space more efficiently in order to reduce their rental expenses in the long term or to introduce new office concepts.

Hybrid working with the alternation of home office and office presence will also remain after Corona. Reconciling work and leisure and creating their own free space has become (more) important to many people. For this reason, in the "Fight for Talents," for example, the companies that are moving with the times and dissolving rigid concepts as well as implementing New Work are prevailing.

If you look in the direction of the USA, hybrid work concepts are already a fixed component in companies, especially in the large tech companies from Silicon Valley. Digitalization has changed the way we work enormously in recent years. Static processes run automatically and can be flexibly adapted to the company and individual requirements. The networking of employees via the Internet and online processes enable simple, cross-location collaboration in real time. Innovative IT and software projects create user-friendly interfaces that are intuitive, fast and easy to use, making everyday work easier. The possible individual as well as personal working conditions for individual employees have been proven to lead to better performance as well as higher satisfaction, which strengthens corporate loyalty. With desk.ly, the new-work concept Flex Office with desk sharing can be successfully implemented. Well-known companies already rely on the software solution (see references).

desk.ly - Simple. Flexible. Work.