NOZ/mh:n MEDIEN — tradition meets modernity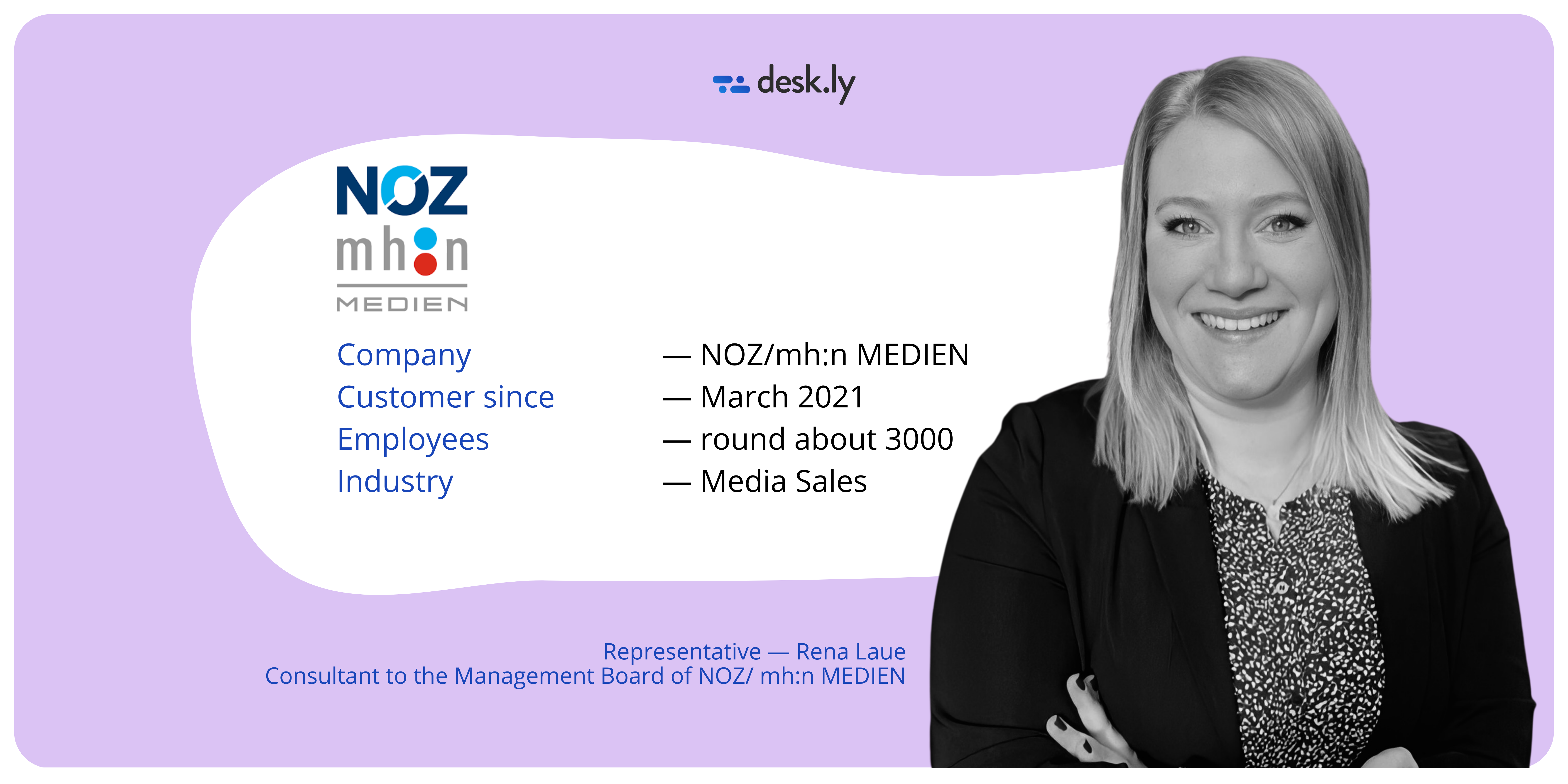 1. NOZ/mh:n MEDIEN — company details
NOZ/mh:n MEDIEN is more than just regional quality journalism. With around 50 companies in more than 60 locations, we are active in numerous sectors. The media group has grown strongly in recent years and now employs more than 3,000 people. In addition to journalists, we also have an agency network with digital experts, travel professionals, Europe's leading digital horse market and many more.
2. Challenge — More than 60 locations with different cultures
The starting situations of the media group's locations are very different and the question is how to manage to work together smoothly and across several locations at this size. We have found part of the answer in desk.ly.

While hybrid work and flex office models are already in use in many offices and the media group uses desk.ly to give employees structure and planning security, other locations still have "seating arrangements set in stone". For such locations, questions like "What kind of working environment do we find?" and "How should it actually be designed?" arise. And here, too, desk.ly comes in as a useful tool. Because during the energy crisis, it was necessary to use space more efficiently and save money on heating costs.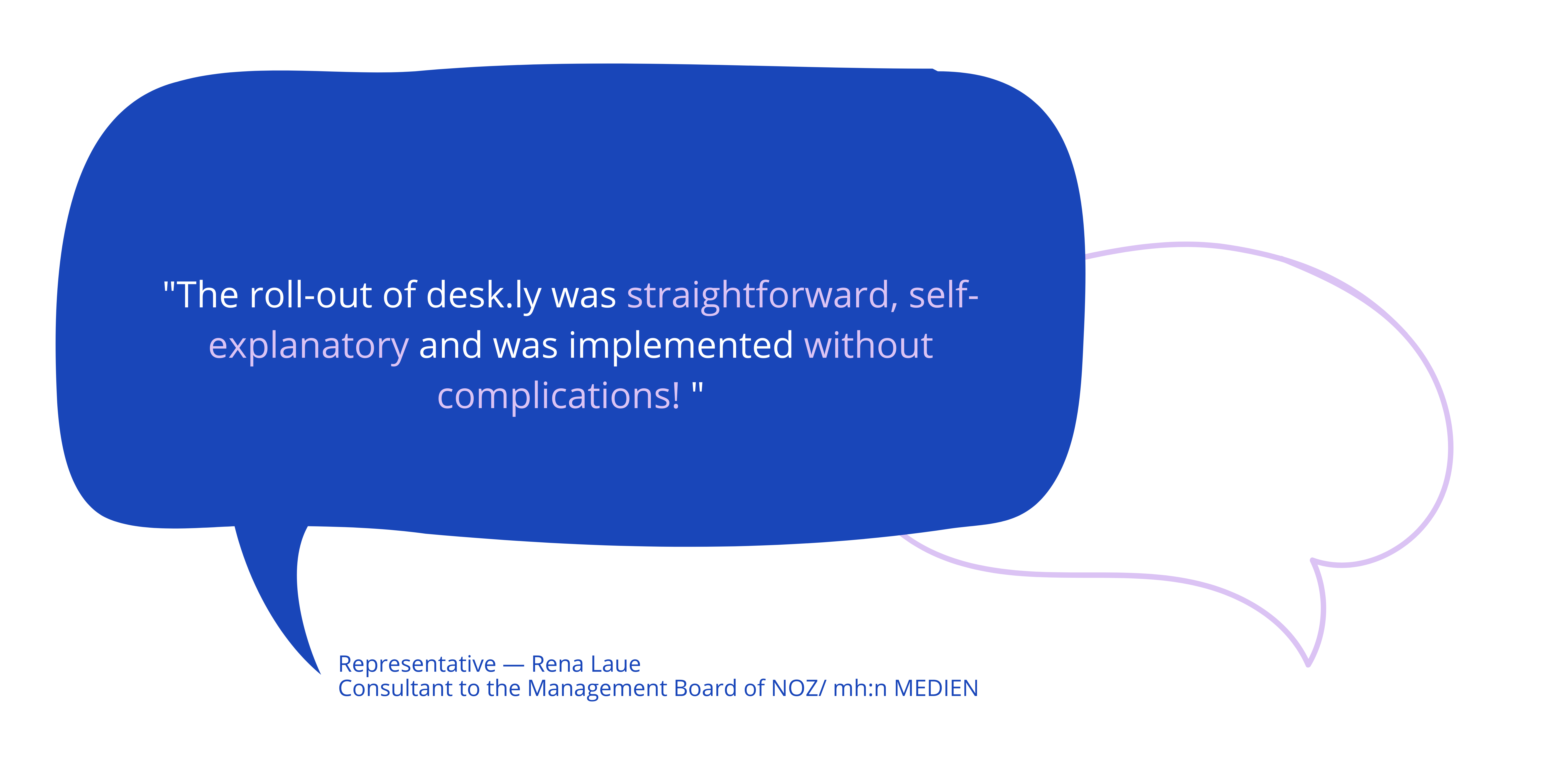 3. Implementation - clear the stage for desk.ly
The group of companies has been using desk.ly since March 2021 - now in more than 30 locations in Schleswig-Holstein, Hamburg, Mecklenburg-Western Pomerania and Lower Saxony. Representative Rena Laue - management consultant at NOZ/ mh:n MEDIEN - is particularly enthusiastic about the uncomplicated usage, which makes the introduction and use of the system extremely easy.

At those locations where the focus was on saving energy, desk.ly now makes it possible to see at a glance how busy the office space is and whether there are areas or office spaces that could be used differently, for example. In addition, the introduction of desk.ly is also a step towards the modern working world.

Due to its user-friendliness, desk.ly is well accepted by the employees. Many enjoy features such as "Who is in the office?", which not only favours new seating constellations, but also makes it possible to see where one's favourite colleagues are sitting and whether he/she is in the office at all. With the introduction of desk.ly, the media group is a big step closer to a modern office world and the working environments of the future.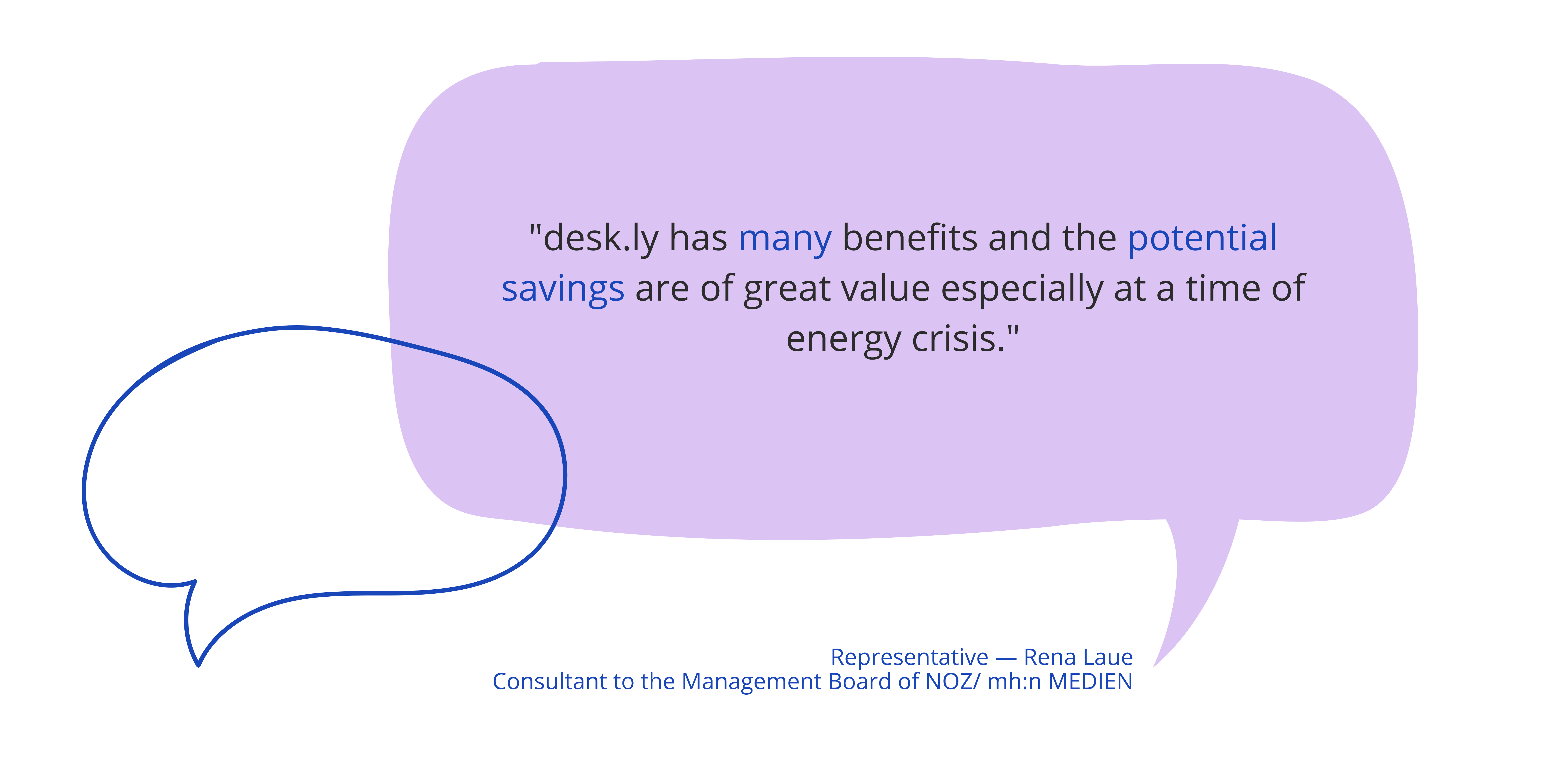 Would you also like to get to know the saving potential of Flex Office and make the best use of your office space?
Then start your free trial month now or arrange an expert meeting.