Desk sharing with Microsoft and desk.ly: into the New Work World as a team
Hello, I'm desk.ly, the market-leading desk sharing tool for everyone who is part of the New Work world or would like to become one. With my help, switching between office and home office in the hybrid work routine can be organised without much effort. The online workplace booking with an intuitive interface makes it possible for your employees to plan working hours flexibly and with just a few clicks in our desk sharing software. Seldom has it been so easy to do something good for the whole team.

And to top that: desk sharing with Microsoft and desk.ly is also possible. Together we are a real dream team that makes the handling of hybrid work in a Flex Office even easier and clearer for you.
Working hand in hand with Microsoft to create even more freedom of choice
And by that I also mean hand in hand: desk.ly works with Microsoft as a partner directly in the Osnabrück area. This makes it easier to integrate our desk sharing software into Microsoft's large system landscape. Thanks to this good neighbourhood, the rollout of our hybrid work solution will be implemented even faster than expected. For you, this means that you and your team can also use desk.ly in connection with Azure or Microsoft Teams and Outlook.
Book your place with desk.ly & save it in Microsoft Outlook
Desk.ly offers you a connection to Microsoft Azure as well as to Office365 (and of course to Google). You select your workspace via the desk sharing tool and whoosh, your booking is automatically added to your calendar and you immediately receive a confirmation by email. This way, everyone keeps track of their bookings in one place and nothing is forgotten or lost. Hybrid work with desk sharing can be so simple with us.

By the way: Desk sharing with Microsoft and desk.ly is particularly convenient to use due to the single sign on feature. Once authenticated, all doors are open to you.
3 reasons for desk sharing with Microsoft and desk.ly
Hybrid Work is our future
The pandemic has proven it: Home office actually works. Employees increasingly value flexibility and want to be able to decide where they work from.
desk.ly and Microsoft are like a pot and a lid. We fit together so well and therefore make it easy for you to switch between office and home office in a completely hybrid way.
Keep an eye on everything
Through our cooperation, your workplace bookings remain linked to your calendars: You will find all information clearly in one place.
Flex Office instead of excel
Desk sharing with Microsoft and desk.ly is a real alternative to Microsoft Excel, because until now many companies have relied on (prone to errors) list-keeping of employees' attendances and absences. In our opinion, this is far too bureaucratic - and we are now replacing this with our elegant desk sharing solution, which suits the New Work world much better. We are also available as a desk sharing app on smartphones for mobile access (Apple & Android).
You are already using Microsoft software solutions in your company - then start with our compatible desk sharing application now!
Our online tool helps you and your team organise and structure hybrid work. With desk.ly, hybrid work in the team is made very easy thanks to the clear design of the digital interface. You can find your colleagues via the internal search function, view the workplace bookings of your team members and find out more about the use of room capacities and office space via the utilisation analysis - test our shared desk calculator now to optimise and save costs in your office space.
Become part of the New Work world with your team and use desk.ly for your hybrid work!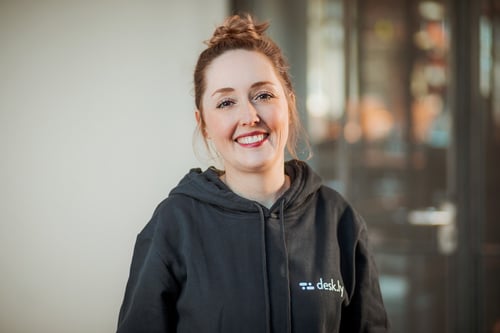 Sherin Gooch-Hatton
Country Manager
Language: 🇬🇧
We will be happy to answer your questions about desk.ly with Microsoft for the hybrid work world and provide you with information and tips on how desk sharing can be implemented in your company's Flex Office successfully. Find out more about the advantages and disadvantages of shared desks in our article on that topic (click here).
Our latest blog posts
Discover our articles on desk sharing and hybrid work for the New Work World.