Stadtverwaltung Metzingen — innovative public management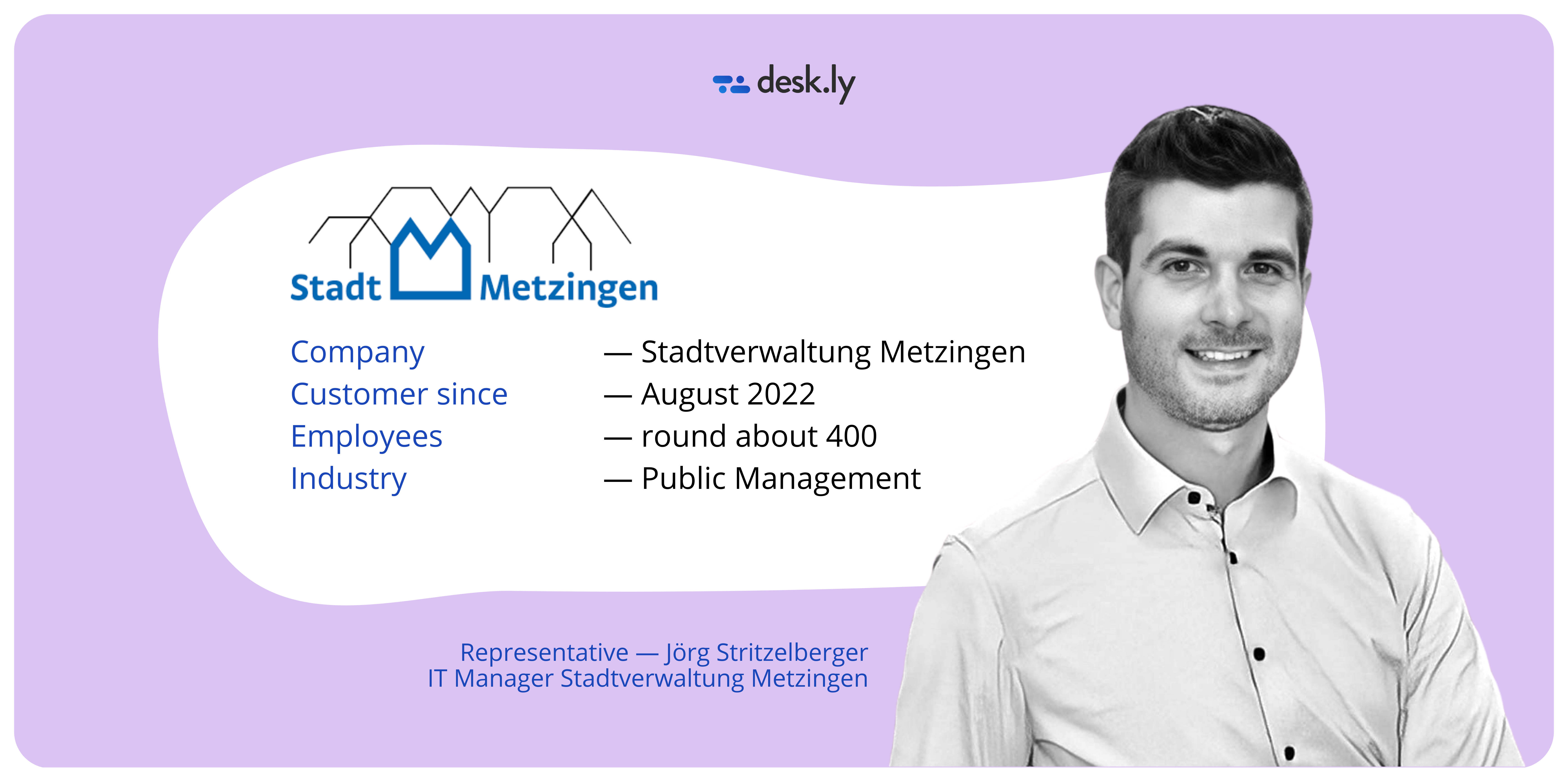 1. Details about Stadtverwaltung Metzingen
Metzingen is located in Baden-Württemberg on the Swabian Alb and has a population of around 23,000. The Stadtverwaltung can be found in the town hall together with the official residence of the incumbent mayor, Carmen Haberstroh, and from there it administers all tasks concerning municipal policy. The Stadtverwaltung Metzingen employs about 400 people at three locations. Firstly, directly in the town hall and secondly in the newly added "DigITal-Garage", where currently up to sixteen employees per day can try out new digital tools and forms of work.
2. Challenge
—

digitalisation for everyone

Of course, even a Stadtverwaltung is not going to escape the Corona pandemic, which forced the employees in Metzingen to switch to home office. Up to this point, there was a balanced 1-to-1 ratio in the town hall, so that each employee had his or her fixed regular place. In the course of the pandemic, interest in hybrid forms of work grew and there was a change of mind that the city administration would also like to become more modern and digital.
To create a space for modern working concepts, the "DigITal-garage" was established in 2022. There, the newly founded digitalisation and IT division consisting of 23 employees is now testing digital tools, a different working atmosphere and hybrid work. In the DigITal-garage, there aren't any permanently assigned workplaces anymore. In order to still have an overview of who is sitting where, digital support is needed.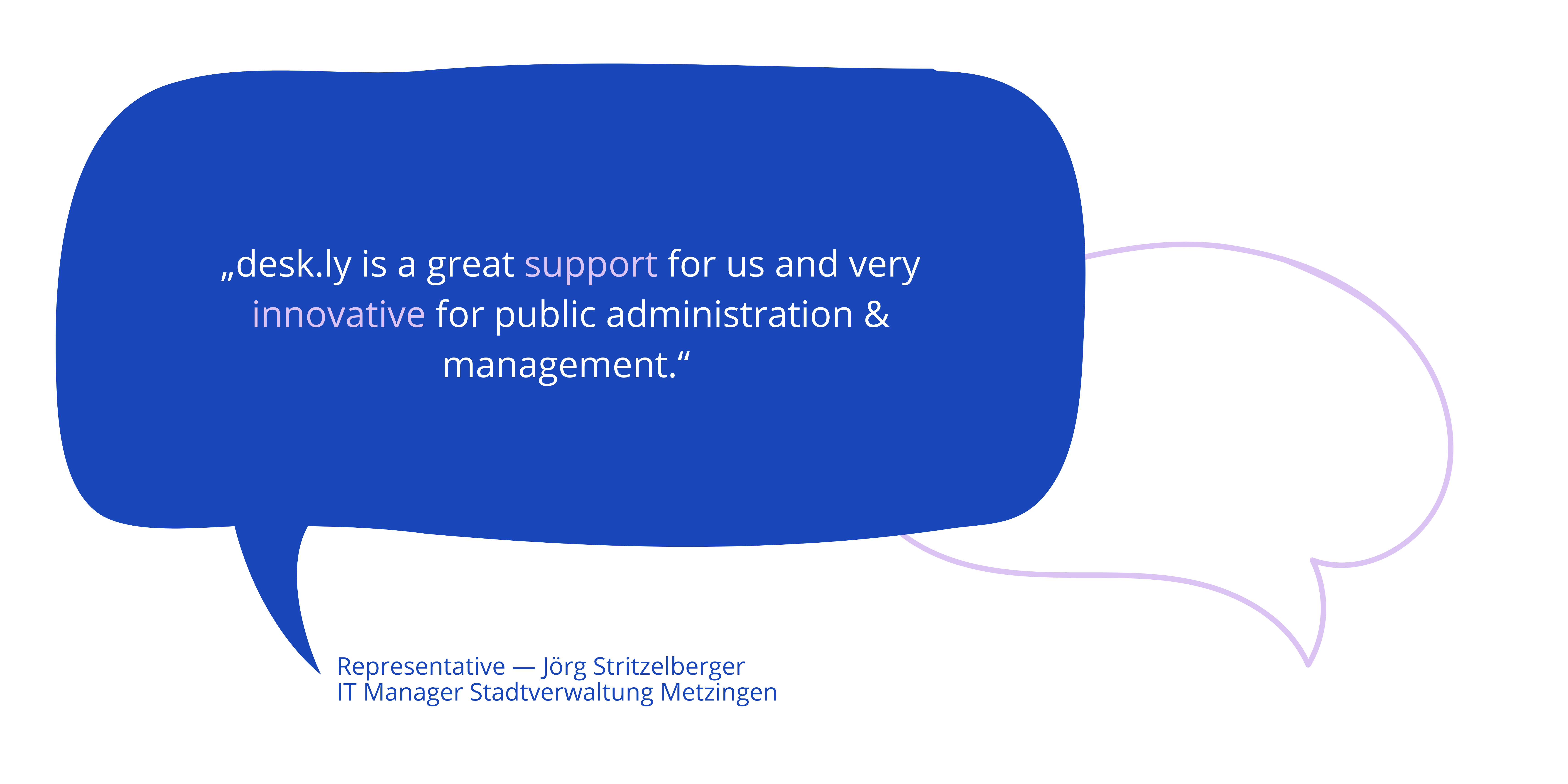 3. Implementation
—

the digital "garage"

In August 2022, desk.ly was introduced in the DigITal-garage and proved to be a "great support", as representative Jörg Stritzelberger - IT manager of the Metzingen city administration - reported.

After the initial familiarisation phase, desk.ly implemented itself very quickly and became increasingly popular. "Especially during the introduction, it is important to support the employees, as the change from the regular desk to the shared desk with clean-desk-policy can be unpleasant and perceived as an additional effort at first," reports Jörg Stritzelberger.
After only a short time, it became apparent that desk.ly can simplify the modern workday: employees can book a workplace of their choice in advance and thus know where they are sitting as soon as they enter the offices. In addition, thanks to the features "Who is in the office" and "Workplace features", daily individual needs can now be taken into account! In this way, the ideal workplace can be found for everyone with just a few clicks. It is easy to filter where you can have peace and quiet, where your favourite colleague sits, where the desk is height-adjustable, near the heating or where the monitor is particularly large.

In order for the desk sharing concept to be tested by all other employees of the Stadtverwaltung, the employees of the DigITal-garage also offer three non-personalised licences.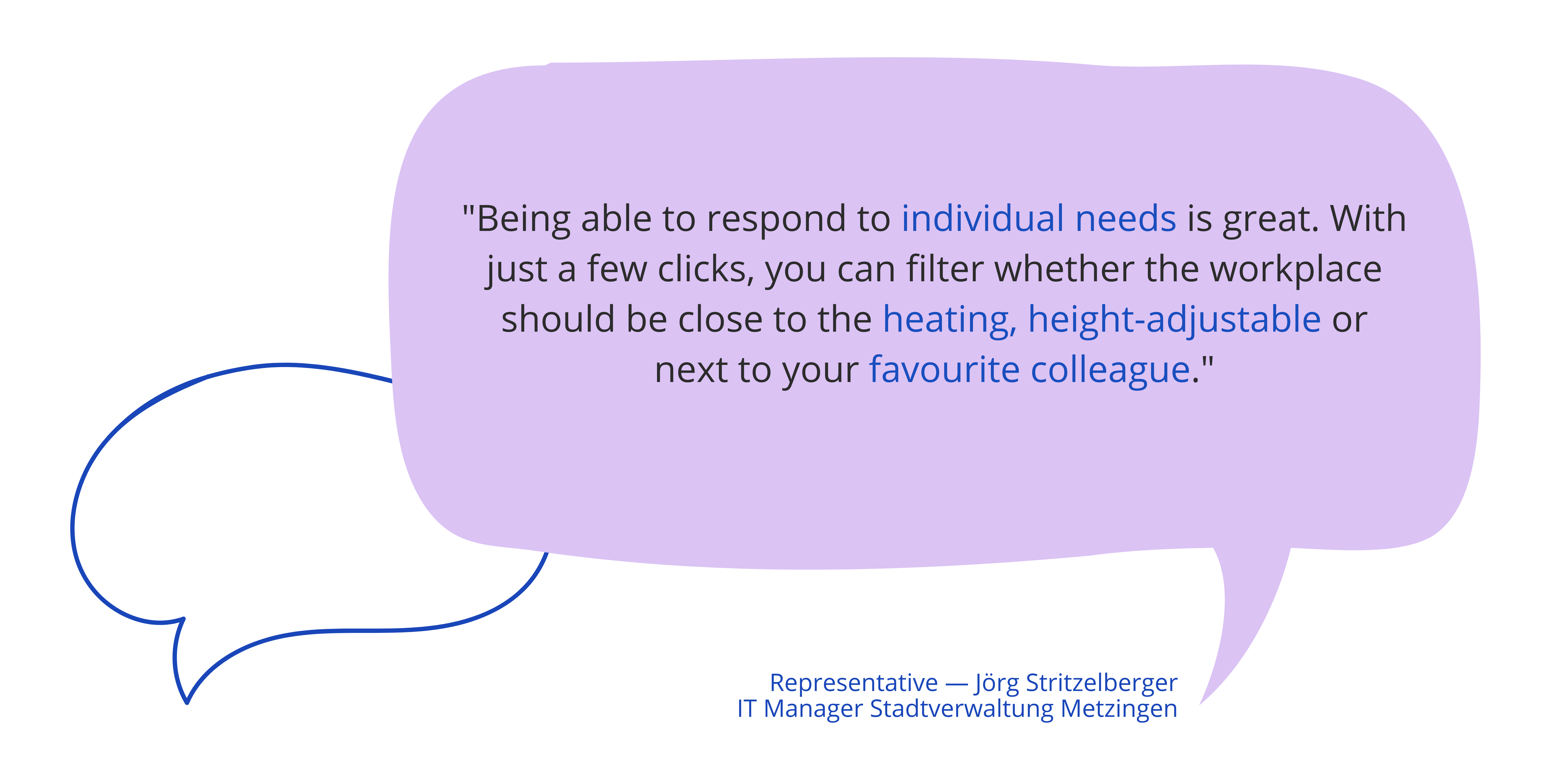 Do you want to support your employees with an ideally equipped workplace and motivate them to perform at their best?
Then find out more now on our website, start your free trial month or arrange a free live demo.